Heritage in focus – 50 Years of the Institute of Art History (1961–2011)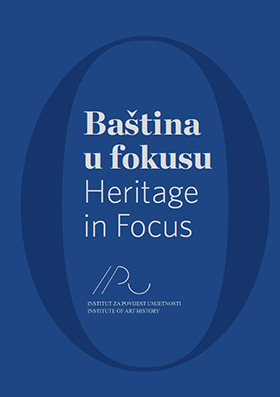 Autori
Željka Čorak, Nada Grujić, Katarina Horvat-Levaj, Ivana Majer, Milan Pelc, Ivanka Reberski, Dijana Vukičević-Samaržija, Radoslav Tomić, Danko Zelić
Urednici
Milan Pelc (glavni urednik), Irena Gessner (izvršna urednica)
Recenzenti
Marko Špikić, Andrej Žmegač
Suradnik
Mirko Peti (lektura)
Grafičko oblikovanje
Mario Aničić i Jele Dominis (oblikovanje); _ured, Zagreb (prijelom i grafička priprema)
Prevoditeljica
Karmela Cindrić
Izdavač
Institut za povijest umjetnosti, Zagreb, 2011.
Nakladnička serija i broj
Studije i monografije Instituta za povijest umjetnosti, knjiga 41
Materijalni opis
428 str.; ilustr. u boji
ISBN: 978-953-6106-95-0
-
Institut za povijest umjetnosti u Zagrebu obilježio je u 2011. godini pola stoljeća postojanja i neprekinutog rada na području hrvatske povijesti umjetnosti. Institut je u tom razdoblju imao značajnu ulogu u razvoju povijesnoumjetničke znanosti u Hrvatskoj, posebice u istraživanjima i prezentaciji nacionalne umjetničke baštine.
Znanstvenici Instituta napisali su brojne znanstvene i stručne članke, objavili knjige, priredili TV i radio emisije, sudjelovali u pripremi velikih izložbi (npr. Sveti trag, 900. godina Zagrebačke nadbiskupije), davši time krupan doprinos boljem poznavanju, vrednovanju i interpretaciji umjetničke prošlosti Hrvatske.
Ova knjiga, kao dvojezično izdanje (hrvatski–engleski), namijenjena je stručnoj i široj javnosti, tj. svim zainteresiranim čitateljima koji imaju interes za umjetničku baštinu Hrvatske.
Sadržaj
9–23
Skica za povijesni portret / A Historical Resume
Milan Pelc
25–51
Povijest naselja i prostorna organizacija / The History of Settlements and the Spatial Organisation
Nada Grujić, Danko Zelić
53–87
Istraživanja umjetničke baštine od antike do renesanse / The Studies of Art Heritage from Antiquity to the Renaissance
Diana Vukičević-Samardžija
89–117
Istraživanja barokne arhitekture / The Studies of Baroque Architecture
Katarina Horvat-Levaj
119–137
Istraživanja likovne i primijenjene umjetnosti baroka / The Studies of the Fine and Applied Arts of the Baroque Period
Radoslav Tomić
139–149
Istraživanja arhitekture 19. i 20. stoljeća / The Studies of Architecture of the 19th and the 20th Century
Željka Čorak
151–177
Istraživanja likovne umjetnosti 19. i 20. stoljeća / The Studies of the FIne Arts of the 19th and 20th Century
Ivanka Reberski
179–187
Umjetnička topografija Hrvatske / Art Topography of Croatia
Katarina Horvat-Levaj
189–195
Izdavaštvo / Publishing
Milan Pelc
196–197
Zaposlenici Instituta za povijest umjetnosti / Employees of the Institute of Art History (1961-2011)
201–402
Bibliografija Instituta za povijest umjetnosti / Bibliography of the Institute of Art History (1961-2011)
Ivana Majer
404–421
Kazalo autora
-
Izdanje ove knjige financijski je potpomognuto sredstvima Ministarstva znanosti, obrazovanja i športa te Ministarstva kulture Republike Hrvatske, kao i Gradskog ureda za obrazovanje, kulturu i šport Grada Zagreba.
Cijena: 30.00 kn